When APS clients Dave and Renee Greiner decided to sell a large part of their business in 2014, one of the first things they did was set some of the proceeds aside for helping others. They wanted to give back and support a range of causes in which they believed and, more personally, to make sure their young boys grew up understanding the importance of giving and eventually getting involved in the foundation themselves.
But it wasn't until 2018 when a close friend of their son received a heartbreaking diagnosis that their focus shifted entirely to a single challenge – to end childhood cancer.
"I still remember sitting at the local park in December 2017 with a few other parents from our 7-year-old son's class, who had quickly become good friends of ours. One of the parents, Kath, mentioned her son Levi had been having some eye problems, and they were getting a scan the next day. We all thought nothing of it, until a few weeks later when they received the most tragic news. Levi had a rare form of aggressive childhood brain cancer called DIPG. It was inoperable, there was no treatment, and he was given less than a year to live.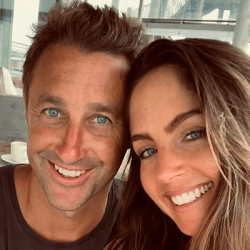 "There has never been a better time to invest in finding a cure for children's cancer."
Dave and Renee Greiner
Over the next year, we witnessed Kath and her husband Ben guide Levi through the unimaginable with so much grace and love. Levi was an inspiration to us all, especially our kids, and he fought this despicable disease bravely to the very end. He passed away on New Year's Eve, 2018. We were overcome with an immense sadness and such a frustrating sense of helplessness. That led to questions of our own. How is there no real treatment available? Why hasn't someone solved this already?
We learned from Kath and Ben that Levi's doctor, Associate Professor David Ziegler, was, in fact, a world-leading researcher on DIPG at the Children's Cancer Institute. We wanted to meet him and see if there was any way we could help.
Dr Ziegler was extremely impressive, not just from an academic or research perspective, but he was the one dealing directly with the families living through the hell of DIPG. It was clearly personal for him. He explained that like DIPG, childhood leukaemia also had a zero survival rate, but through medical research, more than 90% of children today with leukaemia will survive. He believed that like leukaemia, their best chance of success was a 'Total Therapy' approach where different drug combinations are used to target the cancer during treatment.
What he needed for this promising research was more funding. So, together with Kath and Ben we started Levi's Project and contributed $2.4 million to get the project up and running."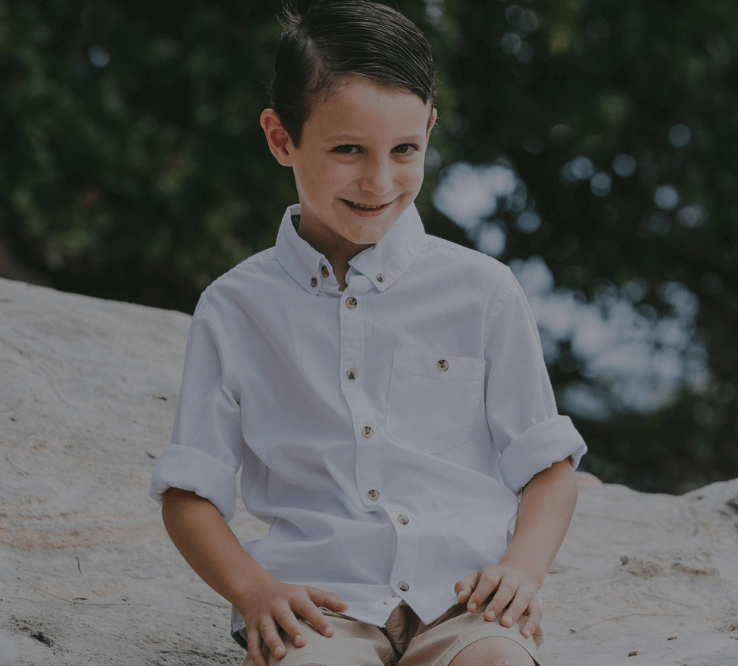 "Levi was an inspiration to us all, especially our kids, and he fought this despicable disease bravely to the very end."
Dave Greiner on Levi
The 'Mount Everest' of brain cancers
"DIPG is a uniformly fatal brain cancer. About 20 children in Australia die each year from their disease. The challenge with this particular brain cancer is that there are no effective treatments that will cross the blood-brain barrier. The position of the tumour also means it cannot be easily accessed. It is in the part of the brain that controls our vital functions and it is inoperable. In many ways, this is the 'Mount Everest' of brain cancers, the toughest challenge to solve. No child has survived this cancer and on average kids only live 9-12 months after diagnosis. If we can solve this brain cancer, we believe we will find answers for many others as well.
Ending childhood cancer is a pretty audacious goal, but I have been so impressed by the progress made with Levi's Project in this first year. Already an additional two researchers have been appointed to work with the established team and accelerate this 'Total Therapy' approach. Several potential drugs have been identified, and the team have been researching which combination of these have the greatest impact when treating the cancer in their pre-clinical laboratory models. What is truly exciting and beyond my expectations, is that some of these drug combinations seem to be effective in these laboratory models. There are a couple of drug targets that look hopeful to move forward with. The ultimate aim is to get these combinations into clinical trials for these kids, and the team are making good progress."
Cancer doesn't hibernate
"The project requires $3 million over three years, so right now there is a shortfall. I don't know how one can put a price on these sorts of things, but right now, during the COVID-19 crisis, that investment is needed more than ever.
As immediate and colossal as the COVID challenge is, I am also acutely aware that it will mean a shortfall in funding for so many other life-saving causes. To make matters worse, children battling cancer are already immunocompromised and vulnerable to viruses like COVID-19. So, while we are finding ways we can help, we're also making sure it's not at the expense of the commitments we've already made.
The reality is, cancer doesn't hibernate so neither can child cancer research. I take great comfort knowing that Children's Cancer Institute will do all they can to continue finding cures. Renee and I want to make sure we do all we can to help make that happen. But I'm mindful more help is needed if we are to reach our target. If you were ever looking for a moment to make a difference now is such a time as the role of philanthropy becomes even more critical."
How to help, right now
"There has never been a better time to invest in finding a cure for children's cancer. Firstly, because technological advances across areas such as big data, artificial intelligence and robotics mean that more progress is being made faster than ever. And secondly, because this COVID crisis so greatly impacts general fundraising streams. Unless philanthropists step up, life-saving research will need to be stood down. Levi's Project offers a real opportunity to leave a legacy for future generations. Three Australian children die every week from cancer and 20 children are diagnosed every year with DIPG. Let's not let the current crisis inhibit that.
Obviously, this project is dear to our heart, but it's more than a personal passion, it's also a public commitment. So if you're looking to find out more and support this incredible work, please get in touch with me directly at dave@greinerfoundation.org.
Or you can donate online http://www.levisproject.org/donate or email the team at Children's Cancer Institute at philanthropy@ccia.org.au. They have been amazing to work with.
I also encourage everyone to read the words of Levi's Mum Kath (https://www.levisproject.org/kaths-blog), a very private person and talented writer who has so bravely shared her experience on the Levi's Project web site. While this is a nightmare nobody should ever go through, her words give others a sense of the horror these brilliant scientists are working so hard to make a thing of the past."