Home Articles Client stories The value and reward of giving dollars and time to charity
The value and reward of giving dollars and time to charity
When Frank O'Halloran retired from corporate life in 2012, he knew exactly what he wanted to do next. As the former CEO of a worldwide insurance company, QBE, Frank understood the impact that life's setbacks can have on families, and especially on children. And he recognised that not everyone is fortunate enough to have the resources they need to deal with the challenges that life can present.
In fact, one of the achievements Frank was most proud of during his time at QBE was to "get the ball rolling" with setting up the company's charitable foundation. Frank was instrumental in establishing the QBE Foundation, and in encouraging staff to engage closely with a charity, so that they could do more than give financial support and see first-hand the struggles that many families face. "We gave staff paid volunteer days so that they could do some work at a charity, which allowed them to get involved more closely. QBE was a long-time supporter of Mission Australia. The QBE Foundation has allowed that experience to be extended to over 40 countries in which QBE has staff and operations. The QBE Foundation recently began supporting The Salvation Army's Oasis program, for disadvantaged youth, with funds and staff involvement."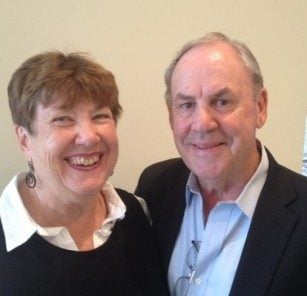 "I initially sought board positions within charities, but I realised that I wanted to do more, I wanted to be more personally involved."
Frank O'Halloran, pictured with his wife, Rosie
So when Frank retired in 2012, he already knew the value, and the rewards, of giving both dollars and time to a charity. Now he would be able to do both. An inspiring conversation with a friend, APS Board member Belinda Hutchinson, led Frank to explore private ancillary funds (PAFs). In late 2012 Frank and his wife Rosie set up their own PAF, the O'Halloran Foundation, with Frank's retirement funds.
The decision to establish the family PAF was an easy one, it felt like a natural fit. Choosing which charities to support was a careful, yet instinctive, decision. Aside from the QBE Foundation, Frank and Rosie had financially supported causes for many years, and Rosie had also been hands-on. They were especially impressed with the work of The Salvation Army.
"Rosie volunteered for Lifeline for 17 years, on their phone counselling service. She used to say that when they needed someone to help a client in the middle of the night, the Salvos were always there. We knew that the Salvos did a great job with people who are homeless, with young people with drug problems, and with helping families in urgent need of support, and in times of disasters."
Frank and Rosie decided to give the majority of their annual grant from the O'Halloran Foundation to The Salvation Army. But their commitment to the Salvos didn't stop there. As an ex chartered accountant and CEO, Frank felt that his business skills might be useful in some way. "I initially sought board positions within charities, but I realised that I wanted to do more, I wanted to be more personally involved."
Frank soon became Chairman of The Salvation Army's Fundraising Committee for the Eastern States. He is now helping to transform the way the organisation engages with companies and is opening doors wherever he can. Frank has assisted the Salvos to explore opportunities beyond its traditional door-knocking activities and individual giving. By helping them to knock on the corporate boardroom for the first time, The Salvos' Red Shield Appeal has been given a new lease of life. Rosie also gives of her time, often speaking at events, to share her experience with the Salvos and talk about their work.
Both Frank and Rosie had rural childhoods with families that had very little, and Frank is one of 11 children. Giving children opportunities to grow and learn is important to both of them. The O'Hallorans also support the Australian Sports Foundation, a not-for-profit organisation that also helps young people access sports programs. "They fund programs such as the Sydney Swans Academy, which gives talented young players, especially from the country areas, opportunities to come to the city and be trained and mentored. It's a great program and can sometimes turn the young person's life around. Quite a few times it's helped get someone back on the right path."
And what have the O'Hallorans enjoyed the most about having the PAF?  "I think being involved with the charities personally. My advice to others just starting out with their own PAF would be to encourage them to do that: get involved as well as give money. You get a lot more out of it than just writing the cheques. Money is only one part of the solution."
"I'd also advise that you make sure you have someone to look after the running of the PAF. Being a chartered accountant I thought at first that I wouldn't need that, but choosing APS is one of the best decisions I ever made. I would recommend them to anyone."
The O'Hallorans are enthusiastic about how rewarding the PAF has been for them, and are keen to share their experience. "One of our challenges is to try and convince others to do the same. Having the PAF has given us a way to talk to others about it, to start the conversation that might just inspire them to establish their own."
Frank and Rosie also love the long-term value of a PAF. "I love that a PAF is long-lasting, whereas with a will it all goes, and is then forgotten about. It's better and more rewarding to give back now, while you're alive and have time to enjoy it."