Home Articles Client stories Structured giving as an integral part of the family life – and business
Structured giving as an integral part of the family life – and business
When Robin Craig and her husband Mick Boyle decided to establish their private ancillary fund (PAF), The Jaramas Foundation, giving was already an important part of their lives.
Since setting up their engineering firm Abergeldie in 1994, a percentage of the company's annual turnover has always gone to charity. The funds support two main causes: a St Vincent de Paul van which distributes food nightly in western Sydney (Abergeldie staff also do volunteer work with the van); and Beyond Blue, in honour of an employee who committed suicide.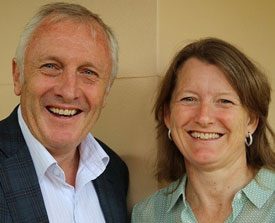 "We had a windfall through the business, and we wanted to allocate it to charity, but we were very busy at the time. When we found out about PAFs we realised that this would allow us to manage our giving over a longer time period."
Robin Craig and Mick Boyle
For Robin and Mick charity work is an integral part of their business, just as giving is also a core value of their family life. So, it was a natural next step to establish the family's PAF, the Jaramas Foundation. The couple have four children and the word Jaramas is a combination of the letters of each family member's name.
Robin explains the thinking behind setting up the PAF: "We had a windfall through the business, and we wanted to allocate it to charity, but we were very busy at the time. When we found out about PAFs we realised that this would allow us to manage our giving over a longer time period. We could put the money into the PAF and then distribute a percentage each year to charity (PAFs are required to distribute a minimum of 5% of assets annually). It was also a way for us to involve the family."
The children have been involved from the beginning. "Once a year we sit down and they help us decide what causes the family will support. It's been great, and it's also allowed us to have an open conversation about the financial windfall, and I think it's given them a good perspective on things."
Nine years on, the children are also becoming more involved in the administrative side of things. "Our oldest child is 21 and she's begun to sit in on the PAF board meetings with Australian Philanthropic Services.  Philanthropy Australia also offers opportunities for young philanthropists, and both of the girls are independently involved in charities."
When it comes to grantmaking decisions, Robin explains that she and Mick believe that philanthropy should not take the place of current government services and safety nets. "Philanthropy can play a role in supporting innovative initiatives which may be considered too risky for government but, when proven to be effective, may then be incorporated into public policy and funding."
The family has a passion for the environment, which is reflected in the focus of the Jaramas Foundation's grantmaking in recent years. One of the projects that they've funded is a Landcare initiative to build a wildlife corridor in the Gundagai region of NSW. Robin visited the site and met those involved. "It was all about teamwork and that's what I loved about it. It was so successful in bringing together several of the local farmers. Local school kids also helped with planting, and a special needs group in the area tended to the trees as they grew. Because so much of Australia's land is in the hands of farmers, I think it's important to support them in their endeavours to improve land for the environment and develop new ways of farming that protects waterways."
In a further long-term commitment to the environment, the Foundation has donated $500,000 to Sydney University to support the study of engineering solutions to provide sustainable power generation and water supply. The donation was sufficient to establish a scholarship, in perpetuity, which will be awarded annually to an engineering PhD student. Robin and Mick are both alumni of the university, and they hope the scholarship will also inspire others. "We are hoping that if more people do what we do then somebody, somewhere, will come up with something significant to change the world."
Robin Craig and Mick Boyle's long-term goal for their philanthropy is to have an impact on creating a sustainable environment, and to involve the family in that process. And the synergy between the family's engineering business and their philanthropic vision is always there. Robin explains: "Our firm has always been about building better communities, through infrastructure, and that's what we're trying to achieve with the PAF."