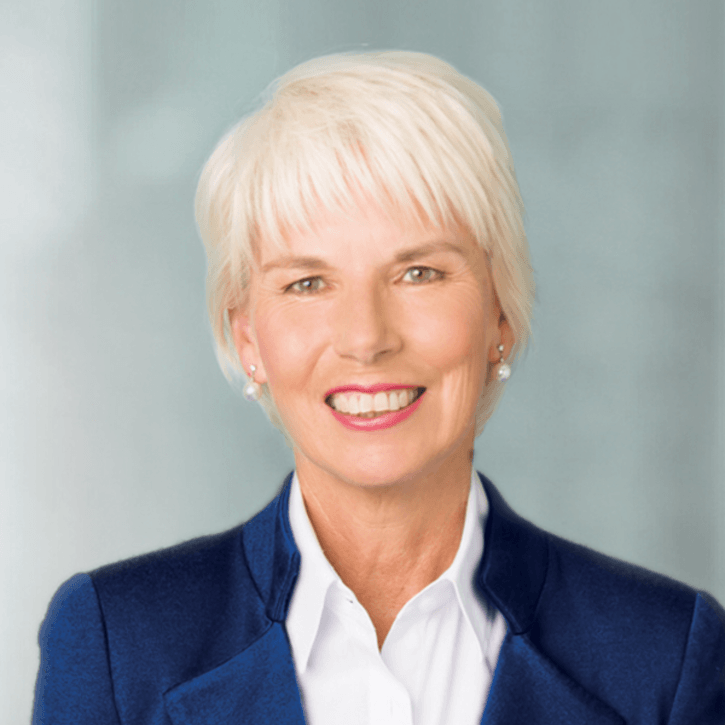 Gail Kelly
Non-executive director
Gail's executive banking career spanned 35 years, split equally between South Africa and Australia. While in South Africa, Gail held a number of senior executive positions in the Nedbank Group.
Gail served as the Group Chief Executive Officer and Managing Director of two banks in Australia – St. George Bank from 2002 to 2007 and Westpac from 2008 to 2015.  In 2008, these two banks came together under Gail's leadership in what was the largest in-market merger in Australian financial services. At the time of her retirement in February 2015, The Westpac Group was the country's second-largest bank and the twelfth-largest bank in the world, in terms of market capitalisation.
Gail is currently engaged in various roles globally as well as in Australia, including as a:
Senior Global Advisor to UBS
Director of Singapore Telecommunications
Director of the Bretton Woods Committee
Member of the Group of Thirty
Member of the Australian American Leadership Dialogue Advisory Board
Member of the Governing Council, The McKinsey Centre for CEO Excellence
Chair of the Optus Advisory Committee
Director of Australian Philanthropic Services
Adjunct Professor at the University of New South Wales
Chair of the Council at Ravenswood School for Girls
Patron of the Alliance of Girls' Schools Australasia
Ambassador for Women's Empowerment for CARE Australia
She has previously been a founding Member of the Global Board of Advisors at the US Council on Foreign Relations, Vice President of the International Monetary Conference, Member of the McKinsey Advisory Council, Member of the PLuS Alliance Advisory Board, Chairman of the Australian Bankers' Association and Member of the Australian Prime Minister's Indigenous Advisory Council.  In addition, she has served as a Director of Woolworths Holdings in South Africa, Country Road Group, David Jones and the Business Council of Australia, and was a Member of the Northern Territory Economic Reconstruction Commission.
Gail is the author of Live Lead Learn: My stories of life and leadership which was published in July 2017 in Australia and New Zealand by Penguin Random House and in November 2017 in South Africa by Pan Macmillan. In the same year, she established 'The Gail Kelly Global Leaders Scholarship' between the University of New South Wales and the University of Cape Town.
Gail holds a Bachelor of Arts degree and Higher Diploma of Education from the University of Cape Town, a Master of Business Administration (with Distinction) from the University of the Witwatersrand, and she has also completed the INSEAD Advanced Management Programme in Fontainebleau.
Gail has been awarded three Honorary Doctorates of Business, by the University of New South Wales, Macquarie University and Charles Sturt University.  She has also been conferred an Honorary Doctorate of Science in Economics by the University of Sydney.