When Mike and Geraldine Roche talk about their Private Ancillary Fund (PAF) that they established in 2013, they affectionately refer to it as "Sally". Officially called Sally Foundation, the name makes perfect sense when you know its personal origins.
Sally Foundation was named in memory of Geraldine's maternal grandmother, who sailed to Australia from England in the early 1900s. As Geraldine explains, "originally from a well-to-do family, Sally's life was one of significant struggle in rural Queensland, and her determination, gentle ways and always seeing the best in a situation provided the inspiration for our foundation."
Both Mike and Geraldine grew up on farms in Queensland, where they experienced first-hand the unpredictable nature of farm life: one season you have plenty and the next you have very little. This formative experience gave them an appreciation of the challenges facing rural communities, and of the importance of being self-reliant and sustainable. For Geraldine resilience was essential. "You have to survive on a farm, whether the crop is up or down. You have to have a long-term view. It's part of our DNA."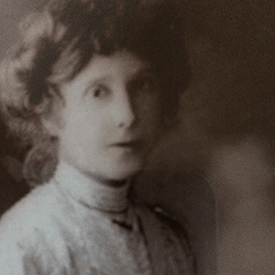 "Originally from a well-to-do family, Sally's life was one of significant struggle in rural Queensland, and her determination, gentle ways and always seeing the best in a situation provided the inspiration for our foundation."
Geraldine Roche, on her maternal grandmother, Sally
Not surprisingly the motto of Sally Foundation is "we invest in your future", and sustainability is one of the key factors Mike and Geraldine look for when selecting causes and projects to support. As Mike explains, "We don't believe in the word donor, we see ourselves as investors, and we're always asking: is it a project that will help them to become self-sufficient?''
Sally Foundation divides its energies between helping youth in regional and rural communities in Australia, and disadvantaged communities in Zimbabwe. Mike is the prime motivator of the work in Zimbabwe, and Geraldine is the driving force of the Australian projects.
Prior to establishing Sally, Mike and Geraldine had personally invested in developing community garden projects in Zimbabwe, to help address the food shortage and put the communities on a sustainable footing. This was undertaken with a local partner and, once the gardens were flourishing, they decided that the project would become part of Sally's work. Although ultimately a success, the experience was a steep learning curve. Problems stalled the project after they involved a second partner due to the overseas nature of the project. The lessons learnt were tough but clear: "We realised that it was vital to align with an organisation that shares our philosophy. We thought they did align, but we were wrong" explains Mike. "Another valuable lesson our local partner taught us was that we have to do a project that the people want, not what the guy with the money thinks they want."
Back in Australia Mike and Geraldine have developed a close working relationship with the Foundation for Rural and Regional Renewal (FRRR). Together with the FRRR they support Heywire, a youth project offering $10,000 grants to young people in rural or regional areas to create a community project. Geraldine's own career in adolescent mental health gave her an understanding of problems facing young people in these areas. "There's a lack of resources or opportunities for young people in rural and regional communities." An important part of the Sally philosophy is to be hands-on, and Geraldine also sits on the assessment panel to help select the successful Heywire candidates, and even mentored some of the recipients.
Recently Mike and Geraldine have been exploring options for a new Australian project for Sally, and are turning their attention to the Bathurst-Orange area in regional NSW. It's important that their projects have maximum impact for a broad community, and Geraldine has clear goals in mind. "We want to work with an organisation/s to provide support for young people (15-20 years) to encourage learning of new life skills and employment prospects, and helping to improve social emotional well-being." They are currently working with APS giving services team to explore the possibilities, and have already met with a number of not-for-profits in the region.
After two years working with Sally, Geraldine has some advice for others just starting out. "You have to work out what's important to you, what you connect with." Mike also adds, "You need to think about how involved you want to be. And you really want to be aligned with what the organisation is doing. If you're not on the same wavelength then it won't work."
(This piece was first published in July 2015.)